Tips to Deal with a Cooling Fan Module Failure in an Audi
The radiator fan, or cooling fan, is an important component of your engine's entire cooling system. It is responsible for cooling the engine and keeping the extreme temperatures inside the engine bay at a working level for all the components, wires, hoses, valves, and metal parts under the hood. It is a device that helps to cool the components by circulating cool air over them combined with liquid coolant to regulate engine temperatures.
What Happens When Your Audi's Engine Overheats
When your engine overheats, it can be caused by a variety of factors, including a clogged radiator, low coolant levels, or a cooling fan module failure. If your engine is overheating, you may notice one or more of the following signs:
The engine temperature gauge on your dash may be higher than normal.
You may see steam or smoke coming from under the hood.
Your engine may make strange noises, such as knocking or hissing.
Your car may smell like burning oil.
The check engine light may come on.
If you notice any of these signs, pull over as soon as possible and turn off your engine. Once the engine has cooled down, check the radiator and coolant levels along with your cooling fan module. It may be difficult to tell what part is malfunctioning, but if your coolant levels are fine, it may be a problem with the radiator/cooling fan module.
Signs of a Cooling Fan Module Failure
You may wonder what signs to look for that indicate a potential cooling fan module failure in your Audi model. If it fails, the radiator's cooling system will not work properly, and the engine may overheat.
Some signs that cooling fan module failure may be imminent include:
The cooling fan does not come on when the engine is running.
The cooling fan comes on intermittently or blows excessively at odd times, such as when the car is sitting idle or moving at low speeds.
The cooling fan runs at high speeds all the time, even when the engine is not hot.
The engine overheats frequently or runs hotter than normal.
If you notice any of these warning signs, it's important to have your vehicle inspected by a qualified mechanic as soon as possible to avoid further damage to the engine.
Reasons for a Cooling Fan Module Failure
The most common sign of a cooling fan module failure in a Audi is when it stops working altogether. If the cooling fan stops working, the engine will overheat and the cooling fan module will fail. In some cases, the cooling fan may continue to work, but at a lower speed. This will cause the engine to overheat and the cooling fan module to fail.
Other times, the cooling fan may work but the cooling module will not. This can be caused by a variety of things including:
A loose connection
A bad ground wire
A short in the wiring
If you suspect that your cooling fan module has failed, it is important to have it checked by a qualified mechanic as soon as possible.
Franklin Automotive Will Repair Your Audi's Cooling Fan Module Failure
If your Audi's cooling system isn't working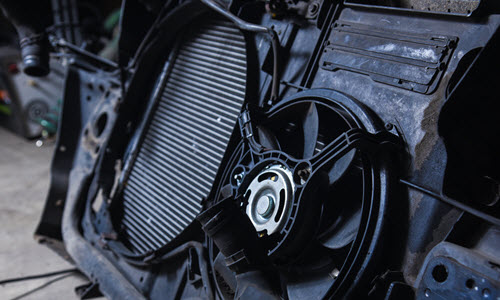 properly to keep your engine cool, bring it to our reputable mechanics at Franklin Automotive! We provide quality repairs for Audi models. In managing Audi engines, we have experienced and capable technicians, expert mechanics, and factory-qualified master mechanics who will inspect, diagnose, and repair your cooling fan module problems quickly and affordably.
We have built a reputation for offering dependable and high-quality Audi engine-related repair services in Birmingham and the neighboring locations, such as Hoover, Homewood, Vestavia, Mountain Brook, Pelham, and Trussville, AL.
Because Franklin Automotive is entirely family-owned and operated, we understand that car repair should be an easy and hassle-free experience. That's why we make sure every mechanic who works at our shop is highly trained, and it's why we offer a host of amenities to every customer who walks through our door, from free coffee and Wi-Fi to local shuttle services. Please contact us as soon as possible to schedule an appointment. We are excited to work with and for you!